Volac Wilmar Feed Ingredients is a new global company jointly owned by Volac and Wilmar International Limited.
By combining Volac's expertise in ruminant and young animal nutrition and in the manufacture and distribution of renowned rumen-protected fats like Megalac® with Wilmar's expertise in the sourcing and supply of vegetable oils and raw materials, we will offer a complete range of branded feed fat products which address the needs of compound feedmills, agricultural merchants and farmers.
Visit our dedicated website www.megalac.com to find out more about our products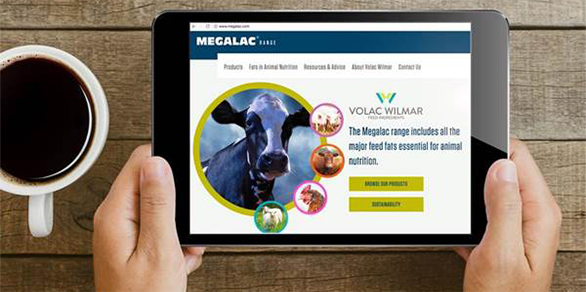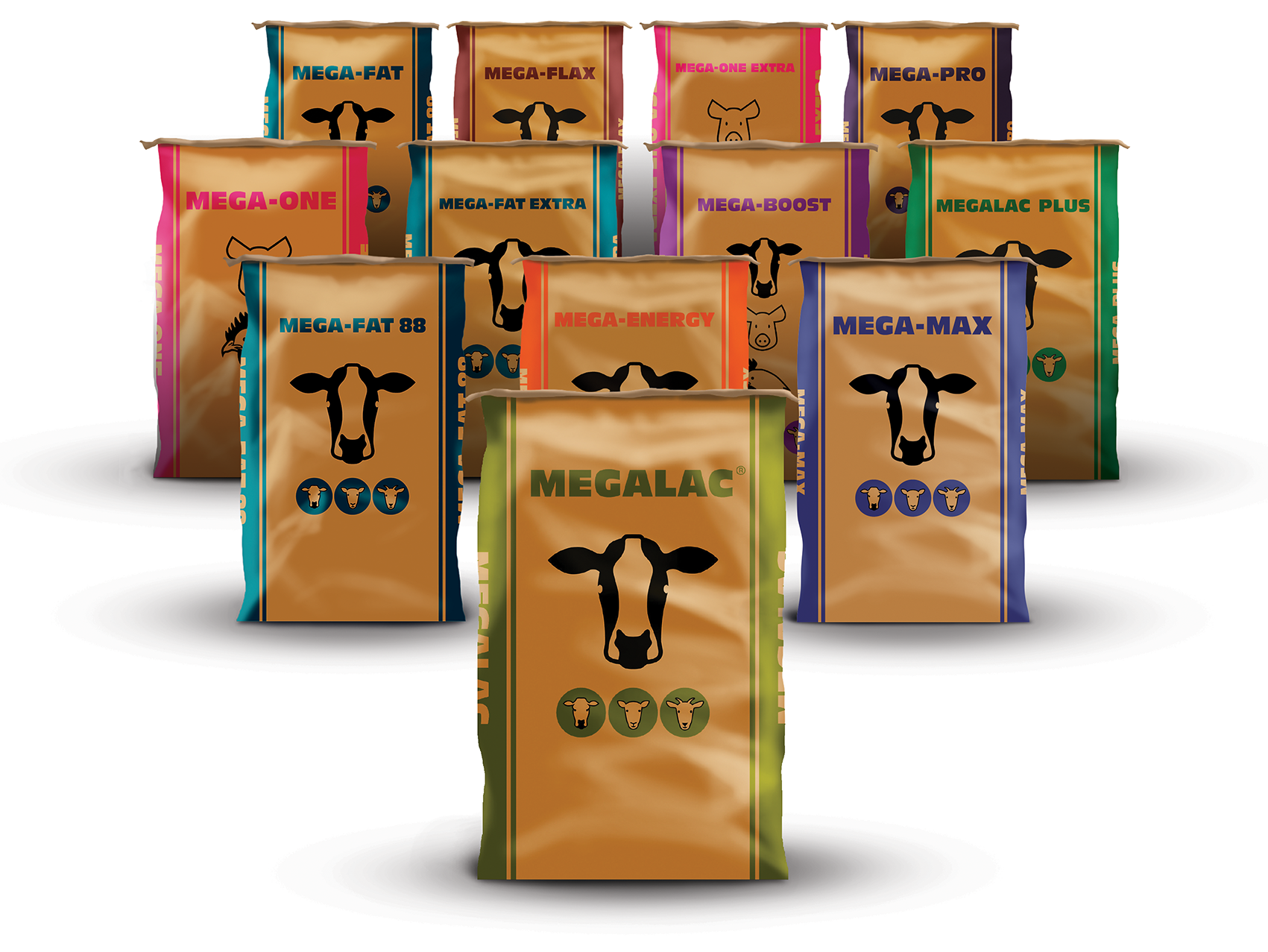 Increasing the level of fat in animal diets can be done by using liquid sources of fat, such as fish or vegetable oils.
In the case of ruminant animals these liquid fat forms can cause problems in the rumen, particularly with feed digestibility, thereby reducing animal performance.
Dry feed fats typically pass through the rumen for digestion in the small intestine and not in the rumen. This is why they are also called "rumen-protected" or "bypass" fats.
By supplying energy in rumen by-pass form, fats can improve animal performance and general health, leading to increased milk production and improved fertility.
There are two major types of commercially available dry feed fats:
1) calcium soaps of fatty acids
2) hardened or hydrogenated fats.
Calcium soaps can be manufactured from any fatty acids but the most common are based on palm fatty acids. They are produced by reacting fatty acids with calcium to produce a rumen-insoluble fat-source that passes unchanged through the rumen to the small intestine for digestion.
Gresik - Meeting global demand for Megalac®
VWFI have constructed a state-of-the-art manufacturing facility for feed fat production in Gresik, Indonesia. It represents a significant investment in the Megalac® brand and increasing capability to meet global demand for the leading rumen-protected fat.
Gresik enhances VWFI's global reach and its location in Southeast Asia means raw materials can be easily accessed. With the ongoing uncertainty of Brexit and the potential impact on European markets, Gresik will not only provide continuity of supply for VWFI's high-quality products, but also facilitate the development and supply of new markets for the feed fat business.
Construction of the 10,000 square metre facility began in January 2018 and the first batch of Megalac® was produced on 23 December 2018. In February 2019 the first shipments of finished product were made to customers in North America and Europe.
The newly-formed Gresik team is headed by Tulus Hutagalung and supported by experienced colleagues from Pasir Gudang and Liverpool. Factory operators have been trained at VWFI's Malaysian factory and there is great confidence that the team will be able to run Gresik at full capacity very soon.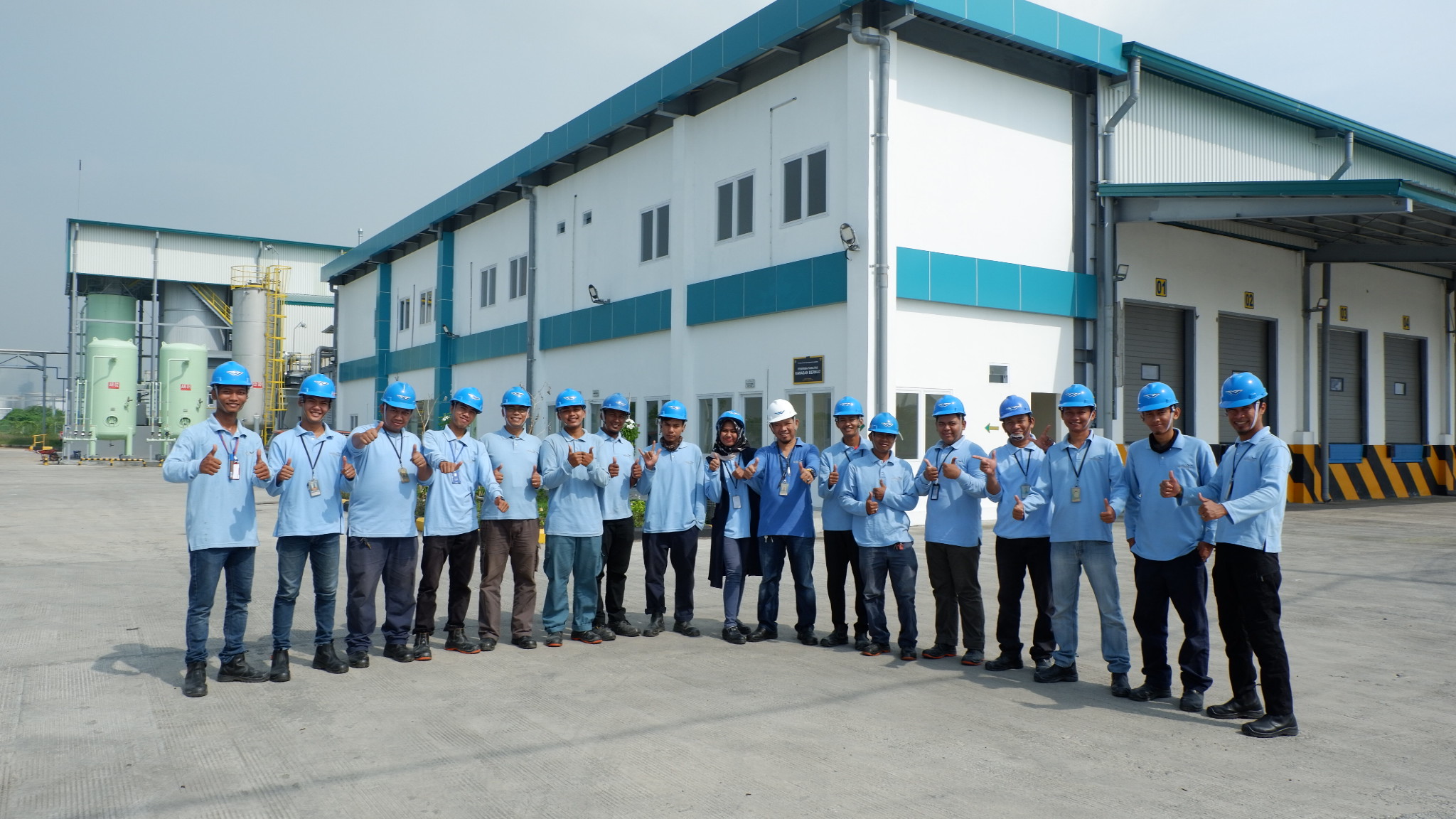 From left to right: Seping, Okky, Pendi, Bahar, Hendry, Rizal, Bandi, Faisal, Mayda, Tulus, Dicky, Adi, Faiz, Akbar, Wawan, Luqman and Zae.
Volac Wilmar Feed Ingredients - Global Reach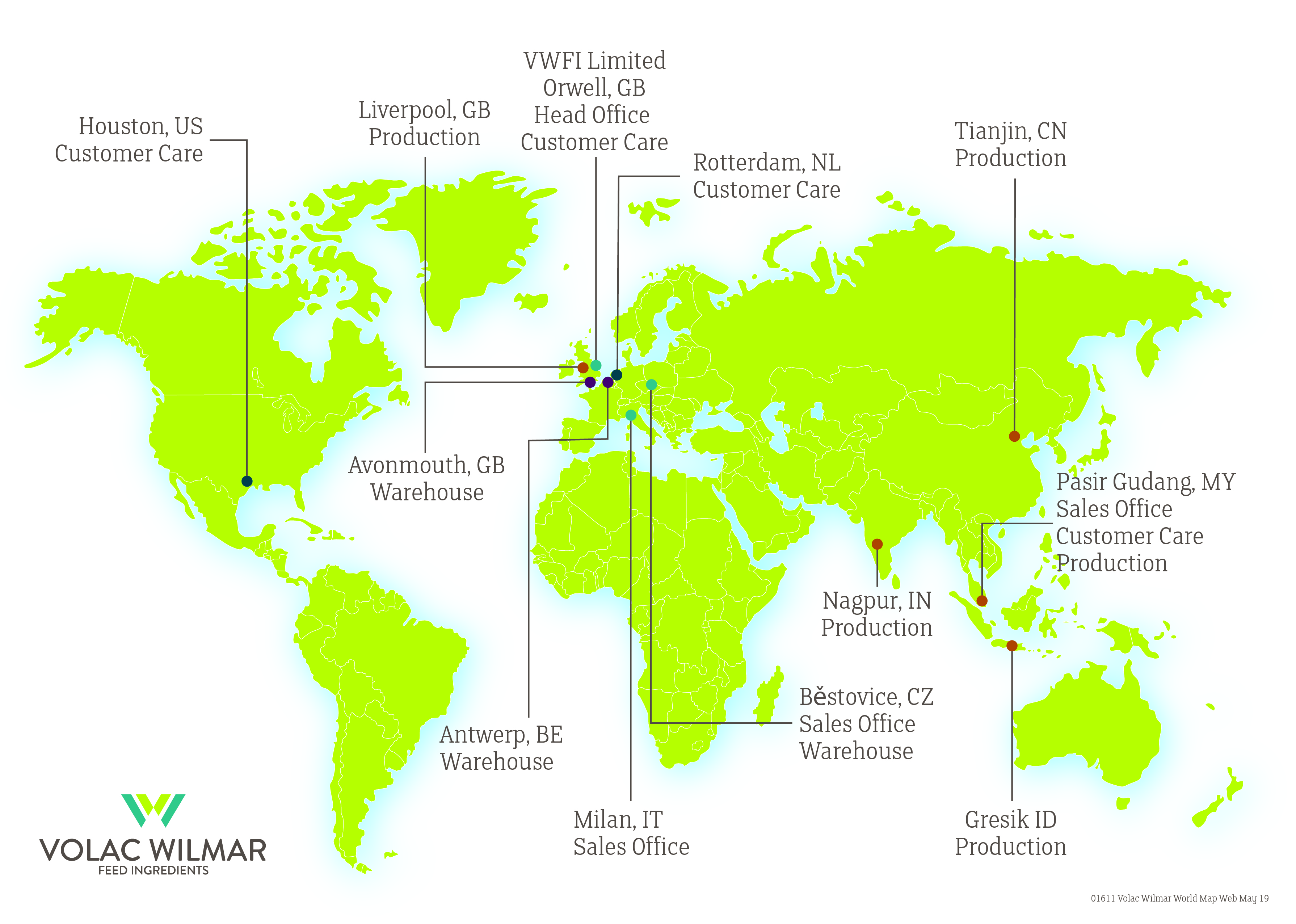 m
Our VOLAC WILMAR FEED INGREDIENTS SDN BHD (VWSB) business, based in Malaysia, provides us with production facilities close to Wilmar's palm oil refineries at Pasir Gudang, enabling us to benefit from a secure and constant supply of quality assured palm fatty acids.
Factory Address: PLO 679, Jalan Tembaga, Kawasan Perindustrian Pasir Gudang, P.O. Box 80, 81707 Pasir Gudang, Johor, Malaysia.
Tel: +607 252 0097 Fax:+607 252 0098 Email: volac-enquiry@my.wilmar-intl.com
Sustainable Feed Fat Nutrition
Wilmar's Sustainability Dashboard
Volac Wilmar sources palm oil products from Wilmar who have an industry-leading "No Deforestation, No Peat, No Exploitation" Policy. The progress of implementation of this policy can be tracked via Wilmar's Sustainability Dashboard.
The Wilmar Dashboard is a microsite dedicated to reporting on Wilmar's sustainability endeavour, in particular the implementation progress of their No Deforestation, No Peat and No Exploitation Policy.
Some key features of the Dashboard include information on Certification Progress, Traceability & Supply Chain, as well as the Grievance Procedure.
To read more about the Dashboard and register for free access - please visit the Wilmar website by clicking here.
Our Joint Venture Partners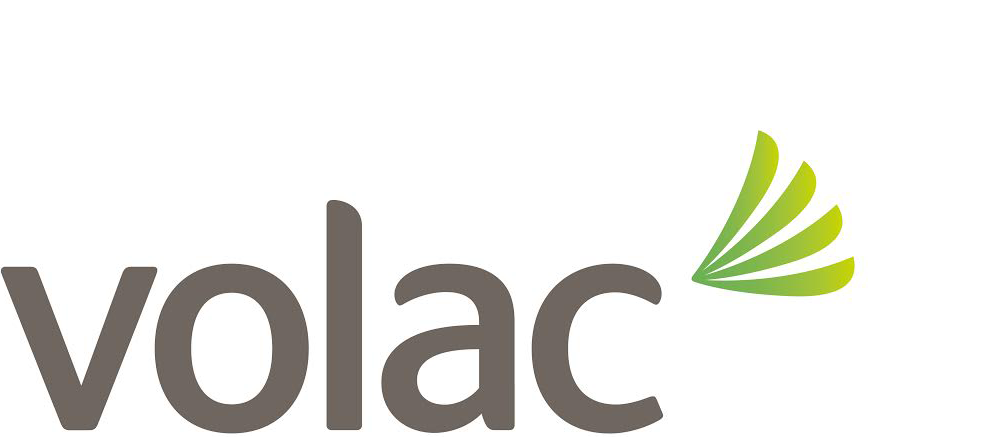 Volac
Volac is a family-owned UK-based manufacturer of dairy nutrition products. Volac's products target three main segments; nutritional products and feeding systems for the agricultural market, whey ingredients and consumer brands for the sport, health and food markets and dairy ingredients for the food, beverage and animal nutrition industry.

Wilmar International Limited
Wilmar is Asia's leading agribusiness group, headquartered in Singapore and listed on the mainboard of the Singapore Exchange. Wilmar's business activities include oil palm cultivation, oilseed crushing, edible oil refining, sugar milling & refining, specialty fats, oleochemicals, biodiesel & fertiliser manufacturing and grain processing.
Registered Address
Volac Wilmar Feed Ingredients Limited, 50 Fishers Lane, Orwell, Hertfordshire, United Kingdom. SG8 5QX
Reg. company number: 09604152